Mr. ALEXANDER MACK
Director Of Food & Beverage
Dusit Thani Laguna Phuket
I just want to send my very best regards and thank you for the outstanding presentation and the words during both the recent Wine Tasting and Wine Class at our property.
We thoroughly enjoyed your knowledge during the events and it was great to hear your views and get to learn more about such great wines and the Wineries,Very best regards from sunshine Phuket and lets see how these Wines will do on our new Wine list.
MR RAYMOND TEO
Executive Assistant Manager, Food & Beverage
Shangri-la Hotel, Bangkok, Thailand
Your training has (again) received very good reviews from my staff. They have enjoyed your innovative and interesting training thoroughly
MS MADELEINE TAN
Country Manager
SOPEXA Singapore
Dear Hwee Peng,
After my curtain has closed two days ago with SOPEXA, I wish to express my sincere gratitude for all the work and effort you have contributed during my time with SOPEXA. The extra time and effort you have contributed towards the assignments I have entrusted to you, they were non-replaceable by any amount of remuneration. Those extra miles that you have contributed have played a major part in the success of many events, especially with CIVA's Alsace Meets Asia event. Most importantly, you have never failed the company and I, rather, you have exceeded my expectation on what you were required to do, and I cannot find any words to express how thankful I am. Nevertheless, I still want to say a BIG THANK YOU!
MS REKHA ISSAC
Business Development Manager, Food & Beverage Unit, Singapore
Australian Trade Commission, Australian High Commission
Hi, Hwee Peng
I had a great time at the Wolf Blass Yellow Label Food and Wine Matching Masterclass. You did a fantastic job and yes, we found the session very, very informative.
MR CHRIS MILLIKEN
Founder
Australian Trade Commission, Australian High Commission
Hi there Hwee Peng,
It was great to meet you the other day… I really want to comment on your website. In all honesty…I think it is one of the best sites I have ever seen. It is very elegant and tasteful with a great innovative style. It appears to capture your character quite well.
I look forward to crossing paths again soon.
MS IRENE TAY
AUSTRADE
On service rendered for AUSTRADE at Wine For Asia 2007
Hi Hwee Peng, a big thank you for your assistance and support at this event. Your presence has certainly added value to the AUSTRADE wine pavilion.
MRS TOH GUEK HONG
AUSTRADE
On service rendered for AUSTRADE at Wine For Asia 2007
Thank you so much for your level of professionalism in representing us at Wine For Asia.
MR STEVEN TAY
Chairperson
SIA Wine Appreciation Group (WAG)/ Assistant Manager (Specialized Programmes)
Mr Lim Hwee Peng has been involved in SIA Air Sommelier Scheme since 2004. He is responsible for conducting various thematic workshops such as 'Cult Wine of the Wine World, Filtered & Unfiltered, What's the beef? etc. Hwee Peng also played a key role in the development of SIA Sommelier Program, and conducts lecture and tasting sessions with the trainee sommeliers. His knowledge of the trade, together with his strong grasp of wine knowledge, was an invaluable lesson in exposing the trainee sommeliers to knowledge beyond the textbooks. He also served as an external examiner for the entire SIA Sommelier Programme'.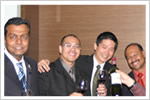 On the exclusively organized South Africa Wine Seminar series for SIA WAG 'The May 6th South Africa wine seminar was a resounding success in terms of the participation from my crew and the depth covered in the two seminars. I have close to 40 crew members attending both sessions as well as the cocktail reception. Amongst them are a number of SIA Air Sommeliers who went away with more knowledge about South African wines. It was certainly one of the highlights of the group this year, and one that was carried out very differently from our usual winemaker's talk. Kudos to Hwee Peng for putting everything together.
The sessions were carried out in an engaging manner, and Hwee Peng did a fantastic job in interacting with the audience, and getting them shares their views about the wines. The essence of South African wines was succinctly put across to the audience, without overwhelming the statistics. Hwee Peng shared what seemed to be like an 'insider's knowledge' of South African wines, and for a while, I thought he had switched organization and joined WOSA instead! Many participants felt privileged to have tasted a number of 'hard-to-find' South Africa wines in Singapore, and it opened their eyes beyond the Pinotage scope. Even my boss who rarely attends wine sessions found time for Hwee Peng's session and was enthralled with the learning.
MR ANTHONY WONG
CEO
Creative Eateries Group
Hwee Peng, thank you for being part of the wine selection process for 2006/7 and the wine training lessons. I am sure something good must have come out of it and in some outlets I heard that wine sales have increased.
MR FABIAN KOH
Operation Manager
Creative Eateries Group
Dear Hwee Peng, I have great reviews from the staff on the wine training and my wine sales went up by 20% over the last few days. Great stuff.
MR GAJENDRA RAO KRISHNAN
Arc International
Hwee Peng's seminar on Oenology is one of the best training for our team. It helps us to better understand global wine culture which enhances our knowledge on wine related matters and provides useful tips to better promote and increase sales for our wine related products. We will continue to use Wine Craft Marketing & Services in future.
MR HOON THING MING
Regional Marketing Manager
Fosters Beringer Asia
The feedback that I have received was excellent! Majority of the participants would like to see you again. They mentioned in the feedback form that your workshop was lively (allows participation), clear and you demonstrate good knowledge on the subject. Great compliments from all of them!
MR RANDY WONG
DFS Singapore
Hi Hwee Peng, thanks for the session; the staff had thoroughly enjoyed it!
This is the exact kind of training we wanted our staff to go through for a clear basic in wine knowledge, and grow from there based on the tasting activities provided by the different vendors and wine-makers. It brings about that enthusiasm for everyone to continue that foray for more wine knowledge and wide understanding of regions/varietals/styles. If possible, we would really like to participate in even more similar sessions that you organizes to preserve the child-like enthusiasm I like our staff to have for wine.
Thanks once again, I look forward to another session conducted by you again in the very near future!
MS DENISE TAN
Manager, Retail Sales
Gaggenau – BSH Singapore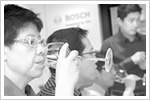 Lim Hwee Peng from WineCraft Marketing came highly recommended as a result of his years of extensive wine experience and amicable personality. The Gaggenau team is delighted with the way in which he helped to heighten our events by injecting his personal style into our wine appreciation sessions for key corporate clients. The session was extremely educational yet enjoyable, an experience which our clients will take with them for a long while. We would definitely work with him on a long term arrangement.